If you keep up on the latest marketing news, you've probably read more than your share of "top X reasons your content marketing sucks" blog posts.
Most will reel off the biggest mistakes newbie content marketers often make: creating salesy content, forgetting about distribution, not paying attention to analytics, etc.
All these points are valid when it comes to having a successful content marketing campaign. But as the strategy enters its prime, many who religiously follow these best practices may sigh and tell you they're still not getting the results they're looking for.
In fact, an unimpressive 33% of B2B content marketers consider their efforts effective, down from last year.
At this point in the game, it can leave many considering two possibilities:
Content marketing doesn't work.

We still haven't figured out exactly how to do it well.
In this post, I'll argue for point number 2. In fact, I think it all boils down to one real reason why content marketing doesn't work for most businesses.
Content Marketing Is Set Apart
Any proponent of content marketing (myself among them), will love to tell you how different it is from every other marketing strategy out there.
Content marketing is unique because instead of trying to draw in customers by pitching the benefits of products and services, it instead works to build a relationship with a target audience, using content to build trust and ensure people come to a brand for guidance and advice.
This is arguably a much more complex way to drive sales, but if done correctly, it can be incredibly effective, especially in today's world.
Our TVs, radios, phones, and computers are bombarding us with advertisements all the time now, not to mention traditional billboard and print advertisements. As a result, many of us are choosing to just tune out the noise:
86% of people skip TV ads

80% of people ignore Google ads

The average CTR for display ads is 0.1%
Data via Bumbl
Content marketing has entered the scene as a solution to the noise that outbound marketing methods have created.
According to HubSpot, content marketing can generate 3 times as many leads as traditional ads, with 62% less cost.
Content marketing has continued to demonstrate success over the years, and has been adopted by a wider range of B2B, B2C and Nonprofit organizations. CMO Council found that 28% of marketers reduced their advertising budget in order to do more digital marketing.
Because other marketing strategies have proven to be less and less effective over the years, and content marketing has come forth as a major solution, many marketers tend to silo their content marketing campaigns from their overall marketing efforts.
And this is the real reason why many content marketing campaigns aren't effective.
Many of us content marketing fanatics have written outbound marketing methods off as either:
Ineffective

Incompatible with the goals of content marketing
Hubspot's latest State of Inbound report reflects this disdain for inbound methods — most consider paid advertising to be some of the most overrated marketing tactics out there, including traditional print, broadcast and modern social media, online ads and PPC.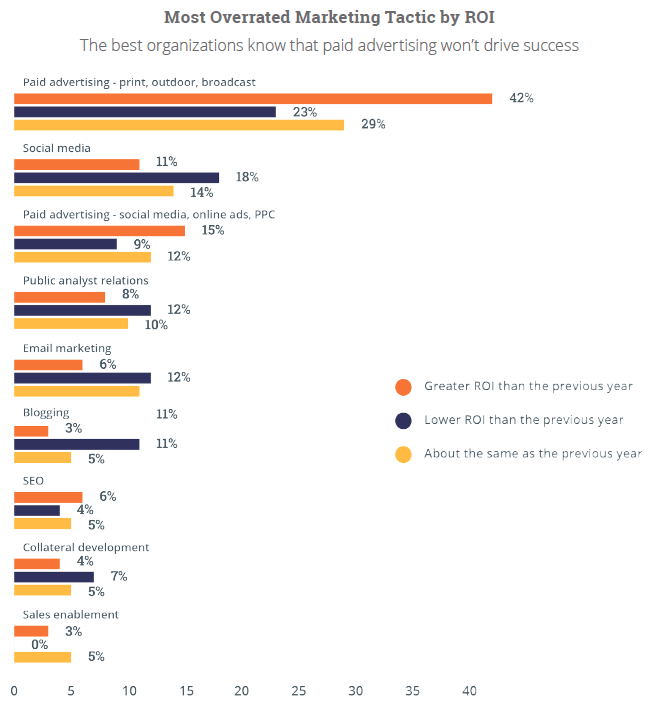 But just because outbound methods appear to be less effective than content marketing doesn't mean that they're entirely useless, especially if you look for ways to use them to complement your content marketing efforts.
In reality, there is still quite a bit of value to outbound methods, and they can complement your content marketing efforts pretty well without compromising the goals of your campaign.
Here's how:
Use PPC Analytics to Inform Content Marketing Efforts
It's true, PPC and content marketing are two very different marketing strategies. One is outbound, one is inbound, one involves creating valuable content, the other requires getting your ads in front of the right audience.
Because they're so different, many businesses operate these two strategies completely independently of each other. What they don't realize is that your PPC analytics offer a lot of valuable information that can improve your content marketing as well.
PPC ad copy can serve as an experiment for the kind of wording that resonates most with your readers. A/B testing two different ads can help you come up with the perfect headline or meta description for content later on.
And don't forget the value using the search query report in Adwords. This allows you to see exactly what people are searching for when your ad comes up:
This kind of information is gold to help content marketers brainstorm relevant content, especially considering that 15% of Google search queries are completely novel.
Use Paid Social to Increase Content Reach
It used to be a lot easier for brands to connect with their audience on social media without spending money, but that's quickly changed.
Facebook's organic reach has dropped from a historical 12% to as low as 1% today — a steady decline coinciding with the launch of ads in news feeds and a steady increase in the platform's stock price.
Twitter, Instagram and others are following suit — they would rather see businesses pay money to deliver content to their audiences than allow them to do it for free.
Marketers who like to set their content marketing campaigns apart from their outbound methods might not want to consider paid social promotion for their blog posts and other content. But at this point, it's essentially a necessity for successful social marketing.
Luckily, you don't need to break the content marketing budget to get your posts and tweets in front of the right audience. Facebook, Twitter, LinkedIn, Instagram and other platforms have reasonably affordable advertising options that are completely within your control.
What's more, they use an impressive amount of user data to create targeted promoted posts, which seems to be paying off. According to eMarketer, 61% of B2C content marketers find promoted social posts effective:
Consider Organic Search Just Another Content Platform
A big question many business owners labor over is where they should invest, SEO or content marketing?
It's actually a moot point, since organic search is really just another platform to amplify your content and reach your target audience.
You want people to find your content so you can start building a relationship with them, and what better way to get that traffic than search?
Content marketing and SEO work well together — especially since appearing in organic search can help boost brand awareness, one of the major goals of content marketing. People know that Google is concerned with displaying relevant and trustworthy search results, so if your business appears in search, it will give a good impression.
In fact, using PPC and SEO in combination is a great way to get traffic to your content. A study by Nielsen found that when organic listings and paid ads appeared together in search results, those brands got 92% of clicks, whereas organic only listings received 60%.
Retarget or Bust
Content marketing is an incredibly effective way to nurture leads. But you would be naive to think it's the only way you can encourage conversions.
People can find your content valuable and informative, consume a lot of it, but still not turn into a conversion in the end. In fact, 72% of online shoppers will abandon a shopping cart before they make a purchase.
Instead of giving them up as lost and moving on to the next potential customer, you need to bring in some of your other marketing methods to seal the deal.
Retargeting is a method of outbound marketing that is based on visitor behaviors, such as people who read your content but never clicked your sales pages, or those who got to the booking form and then abandoned it. You create ads that are tailored to where they were in the sales funnel.
Retargeting ads are an outbound opportunity that content marketers can't miss. IAB found that click through rates with retargeting is 3-10x higher than average for ads. Retargeting can also result in a 147% higher conversion rate in some industries when used in combination with other marketing methods (prospecting).  
You can use simple tracking cookies to gain these insights, and there are quite a few platforms you can use to retarget ads.
Google Remarketing
You can create targeted Google search ads with Remarketing Lists for Search Ads (RLSA), which targets people who have already engaged with your content.
This sub-audience is much more likely to convert, which adds considerable value to these types of ads compared to those that target all searchers.
All you have to do is add Google's remarketing tag to your website, create your remarketing lists, and start building campaigns.
You can even decide to bid on keywords that you don't normally target, but are relevant to the content people viewed on your site. Bidding on high cost per click keywords might be worthwhile when your audience has a much higher chance of converting.
Other Retargeting Platforms
Facebook Custom Audiences also makes it easy to retarget people in their News Feed. You can choose to display ads only to people who have visited your site or performed other actions such as visited certain pages, or even downloaded your content.
Google and Facebook are the big ones, but they're far from your only options for retargeting. Twitter and YouTube offer retargeting options, and services like Adroll, Perfect Audience, and Chango make it easy to keep track of retargeting campaigns on different networks.
Take the Benefits Both Ways
Combining your content marketing strategies with other marketing efforts can bring insights and drive content marketing success, but the benefits go both ways.
When your content marketing, SEO and advertising teams work together, the insights can improve other areas as well.
Benefits for SEO
In the simplest sense, content marketing boosts SEO by simply creating more opportunities to rank. Blogging regularly about niche topics will mean more pages of your website in search results. Google also favors fresh and newsworthy stories in search results, so if you publish a lot of evergreen content, it can give you short term SEO boosts.
And you can't deny the fact that useful, engaging content is likely to attract links, another major rank factor.
Turbo-charge Your Native Advertising
Native advertising is often misunderstood as content marketing, but they're two very different strategies.
Native advertisements are essentially a replacement for online banner ads, which are largely ignored by most internet surfers. A native advertising is a piece of content that is published as a suggested or promoted post on a social media or news platform.
It looks more like a piece of content than an ad:
This is a Starbucks native advertisement that appeared on The Onion, saying that Starbucks Doubleshot Espresso is being researched as a key ingredient to a "Productive Weekend."
But at the end of the day it's still an ad promoting a business' product or service, which sets native advertising apart from content marketing.
This distinction is important, but it doesn't mean you can't use your content marketing chops to create a turbocharged native ad.
Native advertisements usually come with a more formal sales pitch, which still needs to be wrapped in an engaging, informative and entertaining piece of content if you want it to resonate with readers.
And in reality, most native ads aren't going to lead to a direct sale. But they may draw people back to your website, where they start consuming and engaging with your other content. So while native ads and content marketing are two different strategies, they often encourage the same behavior in potential customers. It makes sense that they should be synergistic.
The Takeaway
When it comes to marketing in the digital age, there are many different approaches a business can use: inbound, outbound, content marketing, PPC, paid social, native advertising, SEO and more.
Many of these strategies are dissimilar at their core, which is why few marketers make the effort to integrate their efforts at each.
But if content marketers do coordinate with other marketing methods, the potential benefits for ROI overall are immense.
It's much easier for a marketing team of one to brainstorm content thanks to PPC insights, or drive conversions by retargeting to visitors who fell through the content marketing conversion funnel.
But as organizations get bigger and marketing teams become more specialized, silos start to form that are ultimately destructive for encouraging the consumer behaviors that all your inbound and outbound strategies are working towards.
Cases-in-point are enterprise companies — only 28% told CMI that their content marketing efforts are effective, lower than any other business type.
The truth is, if you want to create a scalable content marketing strategy that sets your business above the competition, there needs to be a concerted effort to integrate it into your overall marketing efforts.
Need a content writer who knows digital marketing?
Whether you need blogs, articles, ebooks, white papers or any other marketing materials, I can create the kind of unique material that will broaden your company's reach and help it flourish.
 Email me for a price quote or more information about what I offer.