Small business email marketing is a big commitment. You need to develop a strategy, build your list, segment, create great emails, test your results, then rinse and repeat.
And once you've started it all, the last thing you want to realize is that you picked the wrong email marketing tool.
Instead, save yourself some time and grief by learning about the best email marketing tools for small business — then choose the one that's right for you.
Here they are:

Aweber has all the features you'd expect from a top of the line email marketing tool: automated campaigns, segmentation, performance tracking, and custom signup forms.
It also integrates with a lot of apps, including Facebook and PayPal. You can get fans to sign up for your newsletter right on your Facebook page, and automatically invite customers to join your list when they purchase from you with PayPal.
And if you're new to email marketing, AWeber customer support is on standby 7 days a week via phone or web chat to answer questions.
Cost:  $19/month for 0-500 subscribers after a 30-day free trial.

VerticalResponse offers helpful responsive templates that look great no matter the device. They also integrate well with social — posting your messages to Facebook fans and Twitter followers.
VerticalResponse is a great tool for small businesses because it will suggest features to use, like Automated Follow-up Emails. This tool automatically resends your email message to contacts who didn't open the original.
If you have any questions, you can live chat with their customer service team on the web as well.
Cost: Free up to 300 contacts and 4,000 emails per month.

One reason Benchmark is a great email marketing tool for small businesses is their drag-and-drop editor. You can easily piece together customized emails and professional looking newsletters and Benchmark will make sure they don't look ugly.
They also offer a wide range of HTML templates for just about any market your small business is in, so you can build emails quickly and avoid coding on your own.
Then you can see how your emails look on different browsers and devices using their Inbox Checker (an advanced tool).  
Probably the best thing about Benchmark is the price.
Cost: Basic features free up to 2,000 subscribers.

If you're a small business owner who thinks managing your business' Facebook page is overwhelming enough, don't worry — you're not alone. Redcappi sells itself by boasting how easy it is to use, even if you're not at all tech savvy.
Redcappi comes with everything you need to run a successful email marketing campaign: list management, campaigns, a newsletter builder, sign up forms, autoresponders and analytics. The big difference is that they forego the bells and whistles and stick with basic settings and tools so anyone can easily manage a campaign.
And if you run a very small business, you'll save money using Redcappi.
Cost: All features free up to 100 subscribers.  
Campaign Monitor is a great choice for just about any business size — they have mobile-ready templates, social sharing, segmentation, A/B testing, analytics and more.
One unique feature of Campaign Monitor is their visual journey designer.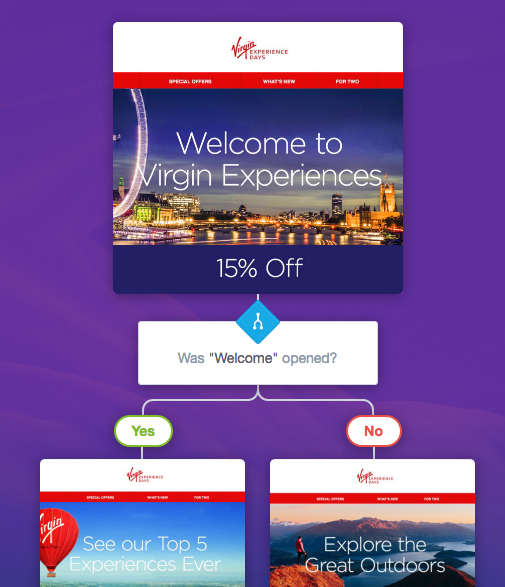 It helps you create and automatically deliver emails tailored to each person's behavior and position in the buying cycle. You can also easily create branded transactional emails for your small business email marketing.
They offer 24 hour a day customer service, every day, no matter where you are in the world.
Cost: Starting at $9/month to send 2,500 emails to 500 people.

Constant Contact is one of the best choices in terms of "set it and forget it" functionality. You can easily create personalized welcome, birthday and anniversary emails and set them to go out at the right time, which is great for busy small business owners.
You can also easily upload your existing contact list from Excel, Gmail, or Outlook. If you want to take advantage of the tool's advanced features, you can create trackable coupons, online surveys, and market your brand at live events.
They also offer in-person seminars and training — so see if there's one coming up at a location near you. 
Cost: Starting at $20/month after a 60 day free trial.
GetResponse is one of the easiest email marketing tools to use for beginners. They'll help you create beautiful emails and design landing pages to build your list. Subscribers have access to more than 500 templates and 1,000 free iStock images as well.
Probably the coolest feature of GetResponse is their drag-and-drop workflow builder.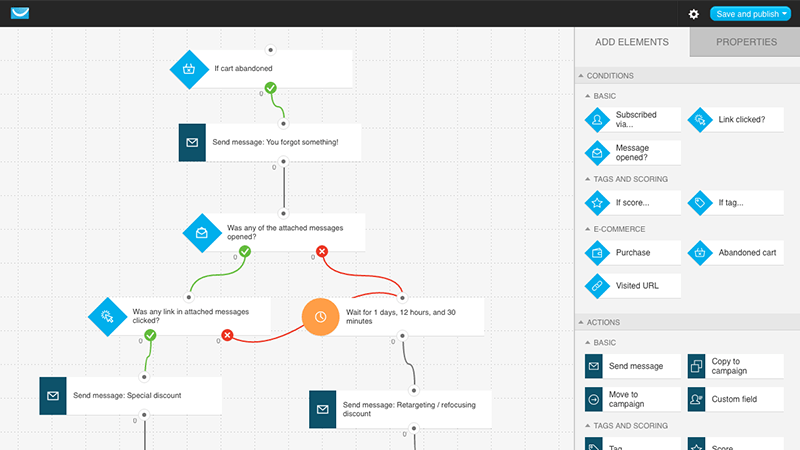 With this tool, marketing automation seems easy.
And no matter what your small business email marketing skill level, their Learning Center has great webinars and resources that can help you learn as you go.  
Cost: Starting at $15/month for up to 1,000 subscribers.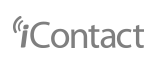 iContact offers a wide range of features so you can pick which work best for your small business' needs.
You can learn the basics of email marketing with their helpful webinars, and work one-on-one with their Customer Success Managers to start seeing results sooner.
I really like their email deliverability Report Card, that grades the most important email marketing metrics for individual contacts and across your campaign (open rate, hard bounce rate, unsubscribes and complaints).
When you're ready, iContact can help you dive into marketing automation as well, with advanced features like behavioral targeting and workflow automation.

MailChimp is probably the most popular free email marketing tool out there. It has a lot of features that make it appealing for small businesses, especially if you work in ecommerce. Mailchimp integrates with Shopify, Magento, WooCommerce and BigCommerce.
It also has a wide range of advanced features if you want to step up your behavioral targeting and segmentation. But the thing I like most about MailChimp is their blog. If there's ever something you don't know how to do on MailChimp, just Google it.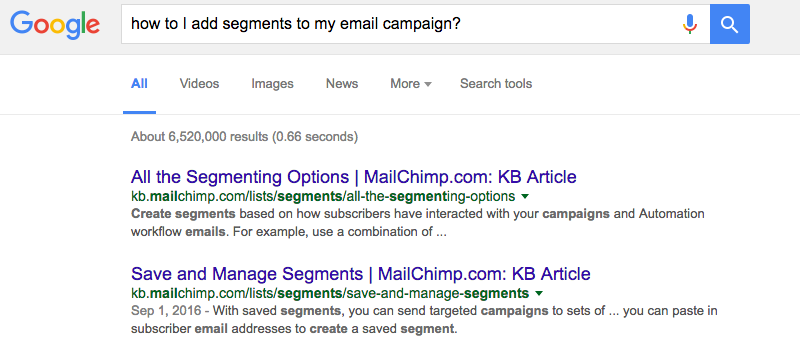 Google will direct you to a MailChimp blog post that explains it step-by-step, with screenshots.
Cost: Free up to 2,000 subscribers and 12,000 emails per month.

PinPointe is a cloud-based software designed for B2B companies. One feature I really like about it is "smart segments." As a small business owner, you might not have a complete picture of all the ways you can segment your audience.
Pinpointe's smart segments look at behavioral and demographic information to help you develop the most relevant subgroups to market to.
PinPointe also helps you get some insights into your social media efforts as well. With social + email integration, you can track social metrics and mine Twitter streams for business trends.
Cost: Pinpointe starts at $49/month for up to 5,000 contacts, or you can opt to pay per email, starting at $245 for 25,000 to a maximum of 25,000 contacts.
Know any other tools or features that are great for small business email marketing? Tell me in the comments!
Need a content writer for your email marketing campaign?
Whether you need blogs, articles, ebooks, white papers or any other marketing materials, I can create the kind of unique material that will broaden your company's reach and help it flourish.
 Email me for a price quote or more information about what I offer.